InfiniCloud Co. Ltd. provides customers with complete and effective solutions by merging cloud infrastructure technology, network infrastructure technology, and cloud software technology in a borderless and flexible manner, as it has done since its founding in 2001.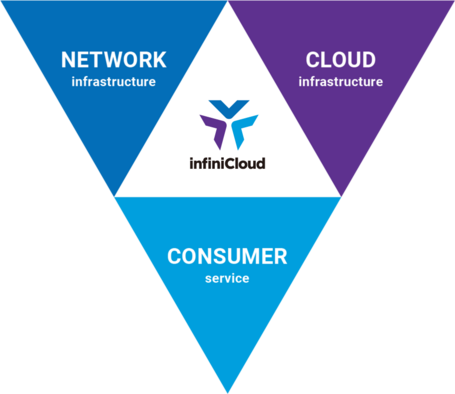 Cloud Infrastructure Business
Our journey began in 2002, and by 2003, we had launched the service by virtualizing the servers, long before the term 'cloud' became the trend it is today. We are continuously integrating and evolving contemporary technology in order for our clients to use it safely and comfortably.
The CPU architecture can currently be selected from Intel Xeon and Oracle SPARC. Regardless of the architecture, numerous private cloud environments can be built.
We designed an enterprise storage system of our own design for you to utilize effortlessly while protecting your essential data in the storage system.
High IOPS by adopting enterprise SSD
Double-parity RAID configuration storage mirrored with two chassis
Backup by asynchronous copy to another base DC
Meeting the customers required capacity
---
About the Data Center
Data centers that fulfill our stringent requirements are linked and integrated using redundant high-speed networks. It is feasible to quickly think about Business Continuity Plan (BCP)/Disaster Recovery (DR) for organizations by integrating multiple data centers, and it is also possible to select regions according to the objective.
Network Infrastructure Business
It is possible to manage a large number of data center bases as one cloud resource, with wide bandwidth, low latency, and high reliability, and flexible and highly applicable systems can be deployed in a distributed manner.
It's also highly useful for setting up a Disaster Recovery (DR) base, and it's easy to connect and manage numerous infrastructures at different bases organically.
Furthermore, without using the internet, a low-latency, wide-band network can be built between the office and the data center. A flexible and adaptable infrastructure that seamlessly combines on-premises and cloud environments can be provided.
It is feasible to construct a high-quality network between public and private clouds with the installation of a connection point with public clouds such as AWS and Azure in the cloud fabric.
From cloud environment to network, we provide a true hybrid cloud, such as on-premises + private cloud.
Service Examples
IP transit service
Internet connection service to data center
Private connection service with public cloud
Cross-regional connection service
Office to DC connection service
Consumer Service
We create and deliver our own services using cloud infrastructure technology, network infrastructure technology, and cloud software technology.
Our online storage service InfiniCLOUD is an excellent illustration of how our technology can be used. Many users use it as a backup storage solution for vital data such as images and movies, which is growing every day.