Release: Most recent iteration of the domestic private cloud, InfiniCloud Private Cloud Series, which is simple to migrate to the cloud and convert to DX (3 month free trial)
April 28th, 2023
InfiniCloud Co. Ltd.
Representative Director and CEO: Yasushi Taki
Employ enterprise storage that can withstand heavy loads and the newest generation of high-speed CPUs. The fastest domestic private cloud that minimizes cloud costs.
InfiniCloud Co. Ltd., formerly TeraCloud Co., Ltd., announced the release of its High Response Private Cloud, a high-response server that is resistant to heavy loads and perfectly compatible with on-premise virtualization environments. This release will involve the employment of the 6th generation "Third Edition" of "VMware Private Cloud", which has highly compatibility with the environment. To commemorate the release of our new product, a 3 month trial of the latest generation CPU can be applied for. (This trial is limited to the first 20 units).
"In principle, the private cloud, which is one wing of the hybrid cloud that supports DX, must be faster than the public cloud."
---
The development concept of InfiniCloud's 6th generation cloud fabric
The compute node group supporting the IaaS infrastructure has been strengthened this time around as part of this 6th generation, third edition development. The AMD EPYC 4th generation 9004 series and Intel Xeon SP 3rd generation are used for the CPU, the number of threads is 48 to 128 threads, and the memory is 384GB to 1.5TB. Network interconnect performance is 20Gbps to 50 Gbps.
With the overall conclusion being that this will be a cloud platform that safely supplements the daily increasing computing needs of enterprises, such as high-load databases, ERP, and payroll systems.
---
Features of InfiniCloud Private Cloud Series
Easiest cloud to life and shift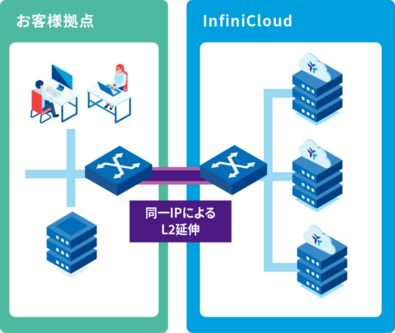 In theory, cloud migration by life and shift is believed to be easy, but in reality, it is not easy to change the IP address of a system consisting of multiple servers.
Since InfiniCloud's Private Connect is L2 connected, existing on-premise data centers and offices can extend the same segments and VLANs to the cloud. Using various P2V/V2V tools, you can migrate servers from on-premises to the cloud with little downtime.
In addition, if you are using VMware in an on-premises environment, you can migrate to VMware as is by selecting VMware Private Cloud.
Optimal solution for reducing cloud costs: Experience a Japanese-style hybrid cloud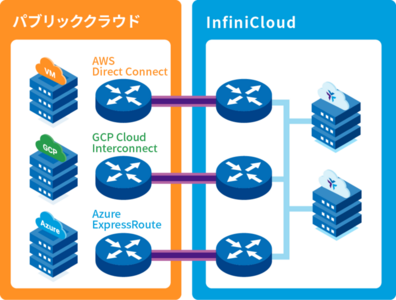 Even companies that have already migrated to public clouds such as AWS/GCP/Azure/OCI often have problems with cost increases due to the complexity of cost calculations and the impact of exchange rates.
Since InfiniCloud is a private cloud created in Japan, exchange rates have no impact on it, and it provides flat-rate plans, simplifying cost estimations.
You can also use InfiniCloud's private cloud, which has a low unit price and fixed price, as well as the special features of each cloud by using our Public Cloud Link to connect IP to the public cloud via L3.
It is believed that the hybrid cloud is the best option for lowering cloud costs, and that returning to on-premise environments in Japan is reportedly becoming more challenging due to a lack of engineers. You can cut costs and address the engineer shortage by constructing a Japanese-style hybrid cloud that combines a private cloud and a public cloud.
---
About InfiniCloud Private Cloud 6Gt Series
AMD EPYC 4th generation 9004 series CPU with high processing performance and good cost performance

64 Threads / 384 GB Memory
64 Threads / 768 GB Memory
128 Threads / 1536 GB Memory
Intel Xeon SP 3rd generation CPU with high reliable and providing many operating results

48 Threads / 512 GB Memory
80 Threads / 1024 GB Memory
Service Details
Please refer to the link below for more service details
https://infinicloud.com/product_hresponse.html
---
3 Month Free Trial
「Limited to the first 20 units!」This trial allows you to try the cloud platform equipped with the latest CPU for free for 3 months.
The service can be continued, cancelled, or returned during the 3 month trial.
Available plans for 1 year, 2 years, or 3 years contract periods can be selected when continuing.
An initial fee will be charged when signing the service contract.

Customers who are allowed to collect information on usage cases and introduce them on our website will not need to pay the initial fee charge.
※This trial is limited to the first 20 units and will end when the quantity is exhausted.
※ Contracts for multiple units or high-end plans can also be provided for hose who require more resources.
---
Company Profile
Company name: InfiniCloud Co. Ltd.
Representative: Yasushi Taki, Representative Director and CEO
Capital: 80,500,000 Japanese Yen
Establish: November 2nd, 2001
Address: 〒420-0031 2-1-5 Gofukucho, Aoi-ku, Gofukukan 5F, Shizuoka City, Shizuoka, Japan
TEL:050-3801-5987
FAX:054-251-1757
Email:info@infinicloud.com
Business content

Cloud infrastructure rental business, hosting business
Cloud software production business

Construction and maintenance of network and server infrastructure
Cloud integration and maintenance work
System development, system integration business
Business related to the aforementioned
For Inquiries
Company name: InfiniCloud Co. Ltd.
Person in charge: Fukuda, Iguchi
TEL: 050-3801-5987
Email: info@infinicloud.com